Twin River Girls Basketball will travel to Bancroft tonight to take on Stanton in the consolation round of the EHC Tournament. Tip-off is set for 6 p.m. Good luck, Titans!
Twin River Junior High Boys Basketball heads to Fullerton to take on the Warriors today at 4:30 p.m. "B" team will play first, followed by "A". Good luck, Titans!
Twin River Wrestling is competing today at the EHC Wrestling Tournament in Howells. Competition begins at 9 a.m. Good luck, Titans!
The EHC wrestling tournament scheduled for today has been canceled due to weather.
Tonight, Twin River boys basketball will play a freshman/reserves game vs. Schuyler at 6 p.m. in Monroe. Good luck, Titans!
Twin River Wrestling is in action at home tonight for a double dual with Palmer, Plainview, and Weeping Water. First dual begins at 5 p.m. Parents night will take place after round 2. Good luck, Titan Wrestling!
Congratulations to Mr. Sidwell winning the December KLIR teacher of the month and Mr. Terjal winning runner-up! Thank you for making an impact at Twin River!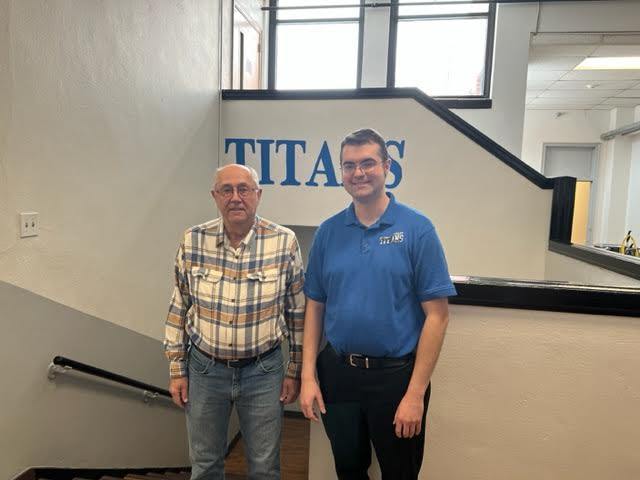 JH Boys basketball is in action this afternoon at 4:30 p.m. to take on Madison. The games will take place in Monroe. A team will play first followed by B. Good luck, Titans!
The junior high boys basketball games tomorrow at Central City are in their elementary school gym. Start time is 4:30 p.m. Thank you!
Game times for Tuesday's games at Stanton are as follows: 4:30 p.m.: JV boys (old gym); Varsity girls (new gym) 6:15 p.m.: Varsity boys (new gym) NO JV GIRLS GAME DUE TO INJURIES ON OUR END.
Twin River baseball signups will take place on January 25th at 3:10 p.m. in the high school media center.
On Friday, January 20th lunch will be Pepperoni Pizza, or choice of PB and Jelly Sandwich or Sub.
The Clarkson/Leigh games have been moved to Friday. The game times are as follows: - JV boys at 5 p.m. (in Monroe) - JV girls at 5:30 p.m. (in Genoa) - Varsity girls at 6:30 p.m. followed by varsity boys Parents night will take place before each varsity game.